so I can start writing a post
oh hideous hayfever has sprung up as soon as the weather looks like it's improving.
Oh I've done so badly and not really bought anything of note and things I have bought haven't fitted properly
Bought a longline granny bra from ebay
Didn't fit (boobs too small, never happens)
Bought a strawberry print dress from ASDA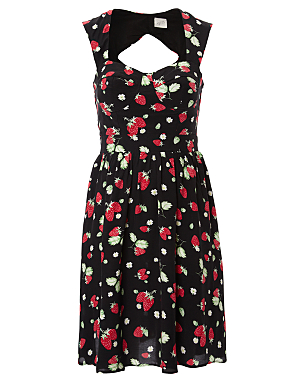 Now I have to pay to send it back
The only charity shop items I picked up this week were
largish cantilever sewing box
in which someone had left a box of bits...
I also picked up this pretty cardigan for only £2
but... sigh I feel like I've been so greedy and useless, buying things and then not fitting (I also won a pair of earrings on ebay which turned out to be minute).
On Saturday my friend and I went to The Bounty, a pub nowhere near the sea but on the Thames, we sat on the jetty and ate chips
On Sunday I went to London to talk about the art side of this years Vintage Festival, though on the way I got a hair cut. I'm involved with the Bad Art Salon - it's a fantastic competition that I have won and come second in.
Give "bad taste" the credit it deserves, is good art really that good or is it BORING?
Do you have any original art you think you could enter? Check out the link above for the details and examples of bad art. Ooh and if you have work you've done yourself - all the better!
Here's what I'm entering this year, it's a bizarre painting I found on ebay
So if you have anything like this - it HAS to be an original you should enter and you could get a free day ticket to Vintage and even win the Bad Art Salon!
In lovely leafy Hampstead we started making a banner based on the Sex Pistols God Save The Queen poster, it was surprisingly easy to map out and not too fiddly to make...
Will be back soon with some more sensible spending and hopefully a downsized room (slightly)